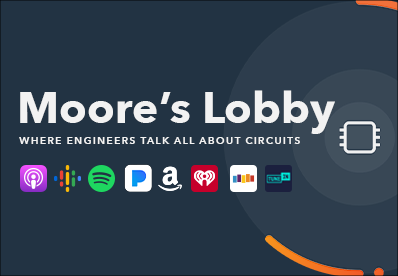 News
Moore's Lobby Podcast Returns For Season 3
Moore's Lobby Returns and Welcomes a New Host For Season 3
After reaching over 120,000 downloads/listens in its first year of launching and ranking as the number two engineering podcast (Feedspot), Moore's Lobby Season 3 debuts August 24th with a brand new host: Daniel Bogdanoff.
Daniel Bogdanoff is a Test Gear Geek at Keysight Technologies and is best known for his videos on the Keysight Labs YouTube Channel and has been published in numerous publications including NASA Tech Briefs, All About Circuits, and Hackaday. He has a Bachelor of Science in electrical engineering from Texas A&M University.
Season 3 will be loaded with exciting new episodes, including the return of Arduino founder Massimo Banzi and the legendary Steve Sanghi of Microchip Technologies. We'll welcome Michael Kagan, the CTO of NVIDIA, who will shed light on the current goldrush of GPUs. We'll speak to Serge Leef, the MTO program manager of DARPA, who will explain how 25 words or fewer can determine whether your project will make it into the big league of DARPA funding. And we'll also meet two NASA astronauts who will discuss the thrill of spacewalks, the technologies that are propelling space exploration forward, and the crucial role of engineers in making aerospace history. Those are just a few of the voices you'll hear this season. Stay tuned for many more as Season 3 goes live.
Before the premiere of Season 3, let's recap the excitement of Season 2. First off, we would like to thank the Season 1 and 2 host, Dave Finch. Dave Finch played an integral part in the podcast's success and we could not have done it without him.
Make sure you subscribe to Moore's Lobby on any of your favorite podcast platforms to get notified of new episodes and browse through previous seasons and follow us on Facebook and Linkedin for special content!