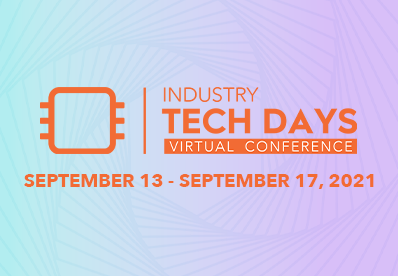 News
Industry Tech Days 2021 Concludes with Over 40K Attendees, 2022 Dates Announced
EETech Media's second annual virtual trade show and conference, Industry Tech Days 2021, concluded Friday (9/17) and was a roaring success. EETech's flagship site, All About Circuits, put on one of the industry's largest virtual events to date, built for our global audience of professional engineers, technologists, C-suite leaders, and electronics industry experts.
Over 40,000 attendees joined the event over a five-day period, from 210 countries—nearly double last year's attendance. Attendees engaged for over 3,300 hours with five all-star keynotes, 50 Live Sessions, 245 pieces of technical content, and 30 exhibitor booths. Each live event, technical article, product announcement, and video was produced by industry experts, sharing insights and techniques to support practicing engineers.
In a post-event survey following this year's final day, 97% of attendees stated that they would return again for the next Industry Tech Days.  
"We're blown away by the reception Industry Tech Days had this year. It's proof that virtual events are not only incredibly valuable, but also here to stay. It's been our pleasure to host this event again and connect the engineering community with the industry partners that help drive electronic design forward."
– Kate Smith, Editor-in-Chief of All About Circuits
The show closed with the announcement of the winner of the Digi-Key Electronics Grand Prize (an InstaLab kit worth over $3,000) and the unveiling of the dates of Industry Tech Days 2022: Monday, September 19 – Friday, September 23, 2022.
This year's success would not have been possible without the exhibitors, sponsors, and community members who brought their expertise and passion to the event. With that in mind, the EETech Media and All About Circuits team would like to say thank you to each and every participant.