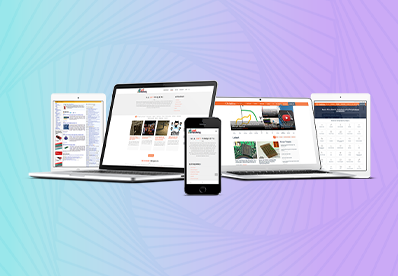 News
EETech Relaunches Website, Announces New Media and Marketing Offerings
EETech Media is pleased to announce the relaunch of their website, EETech.com. The relaunch reflects the company's expansion from media into media and marketing services. "The website relaunch is a culmination of the many changes we as a company have had in the works for some time. We are excited to officially unveil our new media and marketing products," said Adam LaBarbera, co-founder and CEO of EETech.
For the past two years, EETech has worked with electrical engineering companies, providing advertising opportunities on AllAboutCircuits.com. Within the last 6 months, EETech's marketing team has grown to provide clients with app design, technical SEO, web development, video, content creation, and webinars. "The ability to provide clients with this full range of services has been a goal since we first began. We're excited to bring video and content services to EETech." said Rob Pengelly, co-founder and CTO of EETech. "Our full-service video team can provide viewers with product overviews and fully animated 3D renderings. Blogs and whitepapers written by electrical engineers for electrical engineers allow our clients to clearly communicate the latest and greatest that their technology has to offer," said Chris Anderson, Director of Engineering at EETech.
In addition to the new products and services come two new brands joining EETech's flagship website All About Circuits. DIYHacking.com and Mikrocontroller.net are joining AllAboutCircuits.com to reach a larger engineering audience. "All About Circuits is the fastest growing North American community of electrical engineers. This exclusive partnership with Mikrocontroller.net and DIY Hacking will continue that growth on a worldwide scale," said LaBarbera.
With 4.4M page views monthly, Mikrocontroller.net boasts the largest online community of electrical engineers in the European Union. Founder of Mikrocontroller.net, Andreas Schwarz said, "Mikrocontroller.net was created to give German engineers a place to teach and learn from one another." The community thrives on forum discussions covering anything from embedded to power design, with article contributions from German-speaking engineers.
DIYHacking.com provides makers and maker-pros a worldwide platform to post new projects, ask questions, and discuss current inventions. DIY Hacking's initial goal was providing people who, while not necessarily having professional engineering backgrounds, truly enjoy electronics tinkering and project building. As DIY Hacking has grown, the audience has grown to include the maker-pro movement. The maker-pro movement includes the Makers and inventors who make and create a sellable product. "Joining EETech will allow DIY Hacking to reach this quickly growing audience. The ultimate goal is to become the #1 site for Makers and Maker Pros," stated founder and creator of DIY Hacking, Arvind Sanjeev.
To view EETech's new website, learn more about the new partner websites, and see EETech Marketing's broad range of offerings, visit EETech.com.