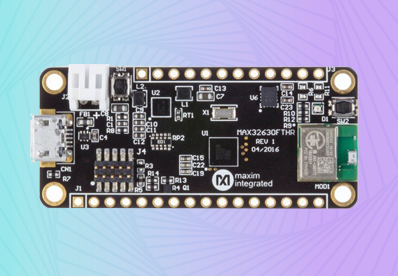 News
All About Circuits, Digi-Key, and Maxim Integrated Join Forces to Bring Users the #MakeWithMaxim Design Contest
The competition centers around Maxim Integrated's MAX32630FTHR board, where entrants can submit ideas to win 1 of 50 dev boards, and for grand prizes worth more than $5,000.
All About Circuits, in partnership with Digi-Key and Maxim Integrated, is excited to announce the kick-off of the latest #MakeWithMaxim Design Contest. "The effort of #MakeWithMaxim is to encourage makers of every level to explore their skills and challenge themselves with new technology. This partnership of All About Circuits, Digi-Key, and Maxim Integrated is a great way to extend the contest to a broader audience," said David Stein, VP, Global Semiconductors at Digi-Key.
This contest is a chance for makers to flex their design skills using the MAX32630FTHR board while vying for bragging rights and the top three prizes:
The 3rd place winner will receive $500 Digi-Key Store Credit.

The 2nd place winner will receive a Saleae Logic Pro 16 and $500 Digi-Key Store Credit.

The 1st place grand prize winner will receive a Microsoft Hololens Development Edition!
"All About Circuits is the largest community of design engineers worldwide, and the #MakeWithMaxim Design Contest is a great opportunity for them to get their hands on our latest technology. This is All About Circuits' first time participating in a design contest, and we're very excited to be partnering with Digi-Key and Maxim," said Adam LaBarbera, co-founder and CEO of All About Circuits.
"For each #MakeWithMaxim event, we love seeing what designers create with the tools they're given. A little healthy competition really helps to get the creative ideas flowing," added Allison Mazella, Marketing Program Manager at Maxim Integrated.
Interested contestants are invited to submit design ideas for consideration. On April 14, 2017, 50 designs will be chosen for the final round. Each finalist will receive a free MAX32630FTHR board from Maxim Integrated to turn their design into a reality, or, for engineers wanting to a head start, the boards are available for purchase now.
The deadline to submit final projects is June 13, 2017. Judges from All About Circuits, Digi-Key and Maxim will review each of the 50 finalists' submissions. First, second, and third-place winners will be announced June 27, 2017. To learn more about #MakeWithMaxim, the MAX32630FTHR, and to enter the Design Contest, click here.