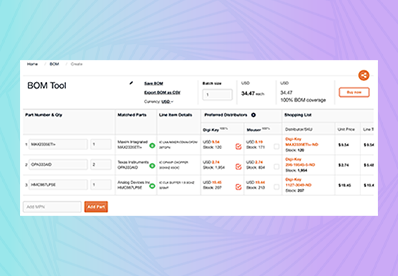 News
AllAboutCircuits.com Announces New Website Tools Available to All Users
AllAboutCircuits.com is pleased to announce three new All About Circuits capabilities: Part Search, Bill of Materials (BOM), and the largest Test & Measurement Database available. These new additions are all designed to assist engineers with projects from beginning to end.
The new Part Search and BOM tools help users expedite the part search and purchase process for engineers as they seek out parts for their projects. "Hunting down items from a variety of distributors can be very time-consuming and frustrating. Access to the Part Search and BOM helps our users save time during the organization step of designing a new product," said EETech CTO, Rob Pengelly.
The BOM allows engineers to search for parts from top distributors including Digi-Key and Mouser. Users simply enter the MPN or SKU and add desired products to their list. A link is provided to purchase necessary parts directly from the distributors.
The new Test and Measurement Database aims to aid engineers as they reach the testing phase of their projects and is an aggregate of available test and measurement equipment. Users can search specs on oscilloscopes, logic analyzers, waveform generators, spectrum analyzers, multimeter, network analyzers, time domain reflectometers, source measure units, and IV curve tracers. "We've spent hundreds of hours compiling datasheets, manuals, and service guides for test equipment dating back to the late 70s. This is the first database of its kind to provide engineers with everything they'll need for test and measurement projects in one comprehensive area," said EETech CEO, Adam LaBarbera.
All three of these new capabilities on All About Circuits are completely free to use. Registered users of All About Circuits have the capability to save BOM lists made while logged in or to export them as a CSV. To explore these exciting new capabilities, visit www.allaboutcircuits.com.