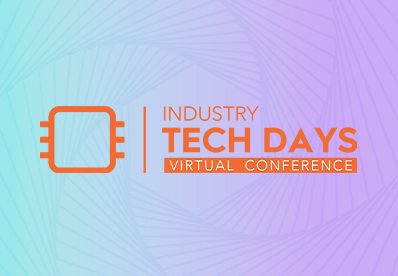 News
EETech Media Unveils Virtual Trade Show for EEs Worldwide
EETech is pleased to announce Industry Tech Days, the largest ever virtual trade show and conference for electrical engineers worldwide, held August 31st through September 4th, 2020.
For five days, Industry Tech Days will transform the community-driven website All About Circuits into a digital expo floor. The event will provide attendees the opportunity to step into the traditional trade show environment from the comfort of their own homes.
"In-person events in the foreseeable future will be heavily reduced and limited," said Adam LaBarbera, co-founder and CEO of EETech. "Our goal is to replicate the traditional, in-person trade show experience in an internet-suitable format. We want our community to gain significant value from the experience and interaction."
Industry-leading companies will have digital "booth" landing pages on which to showcase their informational content. These booths will provide live interactions through which community members have the opportunity to learn about new products and pose questions in real-time to engineers at their preferred suppliers.
All About Circuits will house trade show content during the event, so users can easily see what's new as they check in throughout the week. Attendees will be able to discover and access 300+ articles, videos, and whitepapers – the same high-quality, relevant content they could expect to find at an in-person conference, in an all-encompassing digital format.
40+ live technical sessions will highlight the five-day event, spanning hundreds of topics across 15 premium event tracks. Five live keynote discussions with industry leaders will kick off each day, consisting of OEMs, suppliers, distributors, and other industry leaders. Through a series of live events, including fireside chats and webinars, panel discussions, and specific product training courses, participants can look forward to a breadth of interactive opportunities from a variety of experts within the electrical engineering field.
All registrants are automatically entered to win one of 250 prizes, including a professional-grade 3D printer, t-shirts, soldering mats, and development boards.
Each of the 15 premium event tracks will explore leading-edge topics through the lens of the traditional engineering experience.
Event Tracks
Intelligent Signal Processing
Next-Gen Automotive
Cybersecurity
Design and Simulation Tools
Embedded Systems
IoT Connectivity
Biometrics
Data Storage Devices
Electromechanical Systems
PCB Layout and Fabrication
Advanced Power Systems
Precision Sensors
High-Speed Telecom
Test & Measure Innovations
RF Design
"We're creating a brand-new experience with our users in mind," said Rob Pengelly, co-founder and CTO of EETech. "We've built Industry Tech Days from the ground up in an effort to cultivate an enjoyable, community-driven event that is second to none."
For more information and sponsorship opportunities, please reach out to your local sales representative:
Dallas: Jim DeAndrea (214) 708-5111
Boston: Joe Williams (508) 541-4449
San Jose: Bridgette Stone (208) 429-6533
Southern California: John Spreer (408) 836-5252
Germany, Austria, Switzerland, Belgium, and The Netherlands: Manfred Blumoser +49 (0) 8121-70294-10
UK, Spain, Italy, France, and Scandinavia: Malcolm Cameron +44 (0)7788 108411.