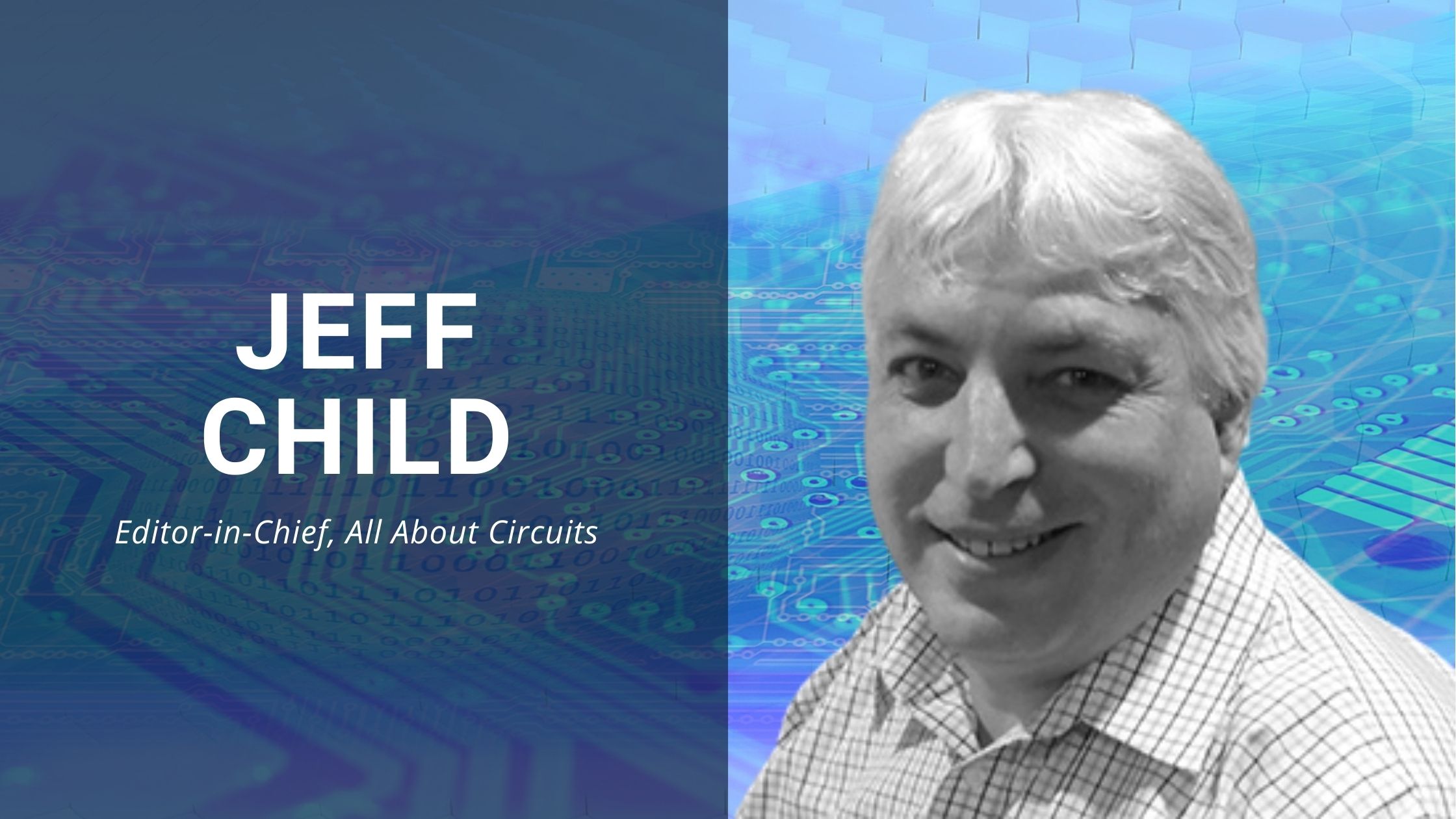 At EETech, we are always searching for experienced, knowledgeable team members that can support our goals within the engineering and technology sectors. And we found just such a team member in Jeff Child. 
Jeff brings a strong background in editing, soliciting, and writing technical content to the table. In addition, he has quite an education that includes a degree in computer science with an electrical engineering specialization (which included some incredible hands-on experience through the Northeastern University engineering co-op program). 
And as he starts at EETech, Jeff is excited to begin applying his skills and experience to focus, strengthen, and improve the content of AllAboutCircuits.com, moving it to the next level of providing reliable information and supporting the collaboration of engineers around the world.
Of New England … and Synchronized Skating?
Jeff grew up in New England and currently lives in Southern New Hampshire with his wife and two daughters. And speaking of his daughters, they were deeply involved in synchronized team figure skating at one time. For a couple of those years, the organization held its own figure skating exhibition (organized by his wife, Joni)  at the end of the season.  As one of the performances in the exhibition, Jeff and some of his fellow team dads performed their own synchronized ice skating routine, much to the laughter of the audience. (There is supposedly a YouTube video, and we are still looking for it)
Jeff says he's fortunate to live in an area nearby to excellent nature trails and that he enjoys walks in the woods—sometimes with a podcast or his dog for company. When weather permits, he'll do some kayaking on local lakes. Jeff also holds that ultimate badge of being a cool nerd: a life-long love of complex board games that he still plays with friends when he can. 
But that is certainly not the only aspect of his life that makes him a bit nerdy.
Editing Like a Boss
Jeff has spent over 30 years covering the embedded electronics and computing industry, which involved senior editorial positions with EE Times, Computer Design, Electronic Design, COTS Journal, and Embedded Systems Development. And while he loves writing articles, editing is his thing. 
Jeff's most recent role was as Chief Editor for Circuit Cellar, a popular publication read by engineers and makers. During his five years there, Jeff helped improve the magazine's look, clarified its mission, and helped establish a rich website. He also worked directly with engineers on highly practical articles ranging from projects to trend stories.
Why EETech?
Jeff says he was drawn to EETech for several reasons, the most important of which is that our technology media company was born as a digital platform from its inception. And it doesn't hurt that it has its roots as a community of engineers. Jeff also points out that he was attracted to the broad set of digital media resources that EETech provides and is very excited to participate.
Knowledge + Passion = Success
Jeff has broad and in-depth knowledge about the technology, people, products, and history of companies in several sectors relevant to electronics engineering, including chip companies, PCB design tool vendors, embedded computing companies, power supply companies, and more. In addition, across leadership roles in different publications, Jeff has an established history of successfully championing publication brands. And he plans to apply that same passion and spirit in his new role here at EETech. 
So if you run into Jeff,  please ask him where that YouTube video is. We need it for so many reasons.