News
IBS Electronics-Site of the Month
IBS Electronics Receives Site of the Month Award from Kentico for May 2023
[Boise, ID] – EETech, the experts on digital engineering communities, data, and eCommerce within the electronics and automation industries, is proud to announce IBS Electronics being chosen as Site of the Month by Kentico.
IBS Electronics is a global electronic components distributor headquartered in California, USA. The company wanted to improve its website's user interface and user experience to provide a comprehensive and easy-to-use platform for electronic components and semiconductor procurement.
Kentico was chosen for its flexibility and versatility in customizing and localizing content for unique audiences. The DXP allowed IBS to quickly implement a marketing site with e-commerce features for managing a large amount of manufacturer and product data.
Matthew Amato, Global Marketing & PR Manager of IBS Electronics describes the website's development experience: "As a cutting-edge organization always at the forefront of technological innovation, we were thrilled to partner with EETech to implement the Kentico content management system for our new website. From the outset, it was clear that this powerful platform was perfectly suited to our unique requirements, offering an intuitive and user-friendly interface that our whole team could seamlessly collaborate with.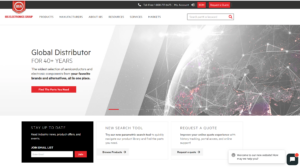 "What truly set our experience apart, however, was the expert guidance and support provided by the team at EETech. With their deep expertise and unwavering commitment to our success, they were able to seamlessly develop and implement our new website, leveraging the full power and flexibility of the Kentico system to create a stunning, cutting-edge digital presence that is sure to captivate and engage our customers for years to come.
"One of the most impressive aspects of the Kentico platform is its remarkable flexibility and versatility when it comes to customizing and localizing content for unique audiences. With Kentico, we were able to effortlessly tailor our digital content to the specific needs and preferences of our target customers, delivering a personalized and engaging experience that truly resonated with our audience.
"Furthermore, Kentico's advanced features and capabilities enabled us to take our digital presence to new heights, providing us with powerful tools and insights to optimize our content for maximum impact and reach. And with access to Kentico's extensive online training resources, our team was able to quickly and easily master the platform and leverage its full potential, empowering us to stay ahead of the curve and continually innovate and evolve our digital strategy.
"Whether you're looking to streamline your content management processes, enhance your customer experience, or stay ahead of the curve with the latest in digital technology, Kentico and the exceptional team at EETech are the perfect partners to help you achieve your goals. We can't recommend them highly enough, and we're confident that they'll exceed your every expectation with their unparalleled expertise, collaborative approach, and unrelenting focus on delivering results within a user-friendly interface."