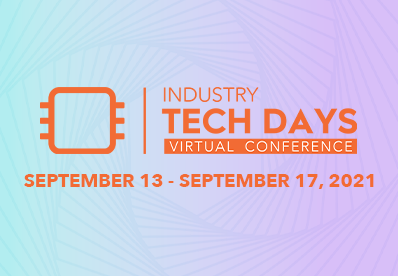 News
Registration Opens for Industry Tech Days 2021
Registration Opens for Industry Tech Days 2021
After setting records with our inaugural event with over 25,000 attendees, Industry Tech Days 2021 will inform and educate executives, engineers, and technologists on the latest technologies and products in the electronics industry.
Industry Tech Days 2021 registration is now open—and free—for attendees! Hosted on All About Circuits, our virtual conference will take place over five days, Monday, September 13th to Friday, September 17th. All About Circuits is one of the largest electrical engineering communities on the planet with over 4 million pageviews per month and 640,000 engineers, industry leaders, and passionate technology enthusiasts.
Register today for Industry Tech Days 2021: https://www.allaboutcircuits.com/tech-days/summer-2021/
"As the industry shifts back to their traditional in-person events, EETech continues to invest in virtual events as an answer to a need engineers face every day," says Adam LaBarbera, CEO and co-founder of EETech Media & Marketing, parent company of All About Circuits. "We believe engineering education must go far beyond in-person events. Live digital uptraining is the only way designers will be able to scale their education in the future." Industry Tech Days is constructed with these ideas in mind, with flexibility and convenience serving as its foundation.
Industry Tech Days 2021 Programming
Get 24-hour access to all of ITD 2021's programming from the comfort of your home, university, or workplace:
Attend 5 Keynotes from some of the most influential engineers in the world
Register for LIVE sessions from industry experts featuring professional training and interactive Q&As
Access 100s of pages on technical info, from white papers to new product announcements
Browse digital booths of your most trusted manufacturers and distributors
There is something for everyone at ITD 2021.
Building on 2020's Success
Industry Tech Days 2020 exceeded expectations, serving 25,000 attendees over five days with a total of over 70,000 pageviews on event content, which included 300+ videos and whitepapers, 50 Live Sessions, and five Keynotes. The event also gave away over 100 prize packages, including one grand prize winner.
A post-event survey sent to attendees showed that a staggering 97% of respondents would attend Industry Tech Days again in the future. Respondents also reported overwhelming positive views on ITD 2020's "relevant session topics," "interesting speakers," and "Q&A segments."
About EETech Media & Marketing
EETech Media & Marketing was founded in 2015 to serve the practicing engineers who design the electronic devices and systems of the future. It remains the only "digital-first" company of its kind, forged from passionate online communities of engineers rather than from traditional print publications. EETech empowers the brightest engineers with the resources to solve real-world design challenges and the platforms to share their knowledge with their peers in turn.
About All About Circuits
All About Circuits is one of the largest online electrical engineering communities in the world. The All About Circuits community includes over 700,000 engineers, technology experts, and industry leaders and provides open-source educational material, cutting-edge industry news, and the tools needed for modern design challenges. Engineers gather on All About Circuits forums to offer and receive insights and discuss design issues.
For more information and sponsorship opportunities, please reach out to your local sales representative: