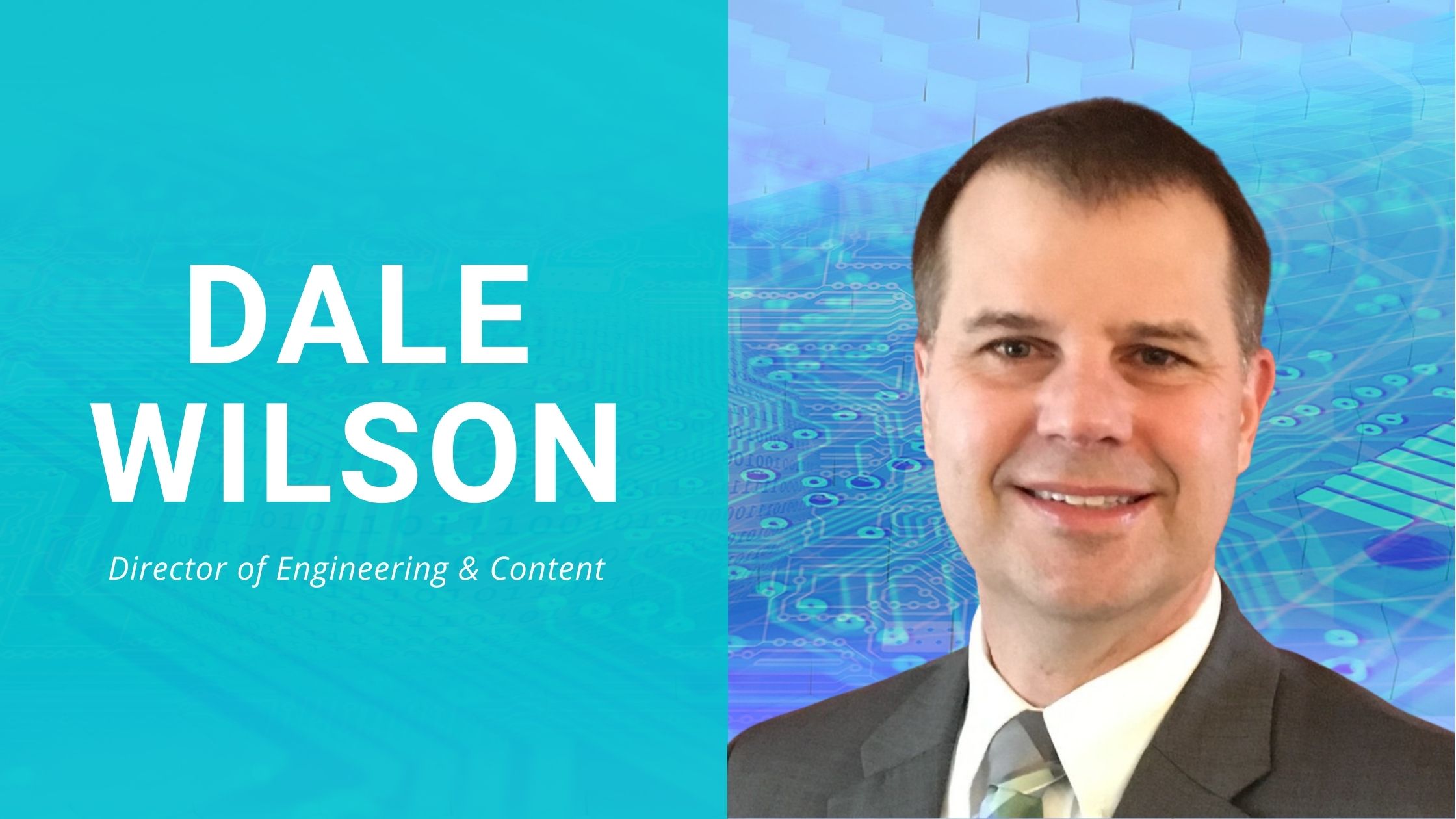 Blog
Meet Dale Wilson, Our New Director of Engineering & Content
EETech, as a whole, continues to expand within the engineering and technology sectors. Our growth is driven by our experienced and talented employees; who, as you may know, are some of the best in the business. As we enter the final quarter of 2021, it is our pleasure to announce our new Director of Engineering, Dale Wilson.Dale brings ridiculously good looks, amazing hair, fashion flair, an exquisite singing voice…wait…*face palm*…this is what happens when you copy/paste the direct response from the interviewee of the blog.
Our CEO, Adam LaBarbera, states that Dale professionally brings "a rare skill set of engineering excellence and technical communication — with a teacher's approach." And it shows. Dale earned a BSEE at the University of Washington and an MSEE from the University of Illinois at Urbana-Champaign, (Go Huskies! Go Fighting Illini!)
Dale has already outlined a few goals for his tenure as the new Director of Engineering & Content. In the coming year, Dale wants to "further raise the engineering quality of our content (articles, videos, and podcasts) by applying [his] engineering experience, insights, and ability to educate, wherever it can help." His long-term plans include building a larger engineering department and further optimizing the overall user experience.
But that's only the tip of the soldering iron.
Dale's Journey to EETech
Dale has been in the engineering field for a long time. Otherwise, why would we hire him? His first experience was during an internship with General Dynamics in their calibration lab. From there, Dale finished off his master's degree and then spent time working on electronic warfare for the United States Air Force at Wright-Patterson Air Force Base, which is purported to be the repository of the crashed UFO aliens from Roswell and UFO research in general, but let's keep the focus on Dale for now. 
Dale's first job in circuit design was with a startup called Seattle Silicon where his projects included development of a programmable ASIC for configuring reversing alarms for cars and trucks. From there, Dale became the Director of Design and Test at Zilog developing new microcontrollers and working with semiconductor manufacturers like TSMC and UMC.
He then found himself as the Director of Engineering with another startup, American Semiconductor, where he worked on a wide range of technologies and applications including ultra-thin flexible electronics, radiation-hardened electronics, custom dual-gate CMOS transistor technology, and a whole lot more.
And so he arrived on our doorstep and impressed us with his ability to contribute in all facets of the company, and his general air of awesomeness; thus becoming our new Director of Engineering & Content.
Suffice to say, Dale impressed us all. So what impressed him the most about EETech?
Home is Where the Engineering Marketing Firm is
Throughout his life, Dale has lived and worked all across the United States and even claims to have lived in "all four of the mainland US time zones." However, Dale has called Boise his home now for over 20 years and, in that time, has witnessed many tech companies come and go. Yet somehow, Dale overlooked EETech until just a few years ago. Don't worry, we don't hold that against him. 
"A few years ago I stumbled upon All About Circuits and was then surprised to learn that EETech was located here in Boise. Since the electrical engineering industry isn't that big in Idaho, you tend to hear about most companies, but EETech had escaped my notice until then."
When EETech listed an opening for the Director of Engineering, he immediately knew that he would be the perfect fit, citing his broad interests and experiences in the field, his focus on circuits, and his passion for engineering education.
Dale's passion is one of his best qualities; second only to his "beautiful singing voice" which we will be confirming at our next company karaoke outing. We've already seen his fashion choices and hair, so consider us highly skeptical.
Hanford, We Have Lift Off
So what spurred this passion for engineering and technology?
Dale was interested in technology, science, and mathematics from an early age. While he wasn't quite a "tinkerer" per se, he read anything and everything he could find related to science and technology. During his junior year of high school, Dale was granted the opportunity to shadow an electrical engineer at the Hanford Nuclear Reservation for a day. Of all the fond memories made that day, one in particular stood out to him.
"At one point he [the electrical engineer] pulled a PCB out of his desk and said, 'I designed this circuit board that flew on multiple Apollo missions.' I was hooked. I then arranged, with my high school physics instructor, to take an independent study course in electronics."
All it took was one day at Hanford to secure a life-long obsession with engineering and technology.
An Interesting Man
When asked what made Dale Wilson interesting, he merely replied with, "Can I say not much?" Although Dale considers himself to be "more square than Spongebob", he is quite the contrary. Outside of the office, Dale enjoys reading, running, biking, and watching baseball; not to mention spending time with his children and making reservations for date night with his wife. 
In the office, he is the resident Sass Master in G Chats, but has a weak giphy game, and is eternally locked in a "Who Gets to the Office First" battle with yours truly. 
Over the years, Dale has completed a 100 mile bike ride and also a couple of marathons — albeit "very slowly." Dale has also coached a ton of youth sports such as baseball, softball, soccer, and basketball. The most unique aspect of Dale Wilson, however, is that he is missing his left bicep muscle and states that it "looks pretty weird if I try to flex." I'm now realizing the second I post this blog, everyone will run to Dale to show off this oddity. Which he will do, with a massive smile on his face. Sorry, Dale!
So stop by and say "hello" to Dale, there is no doubt you'll be seeing and hearing more from him in 2022.
Interested in working for EETech? Check out our open positions and apply today!