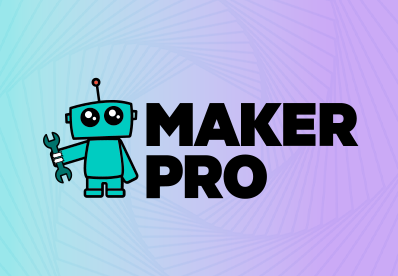 News
Introducing Maker Pro: DIY Hacking's Next Evolution for Makers Globally
After several years of growth with our maker-focused website, DIY Hacking is getting an overhaul. Starting February 2, DIY Hacking was formally renamed Maker Pro, complete with a fresh set of features and a brand-new interface.
"We talked with professional makers who have non-traditional engineering backgrounds. After listening to their needs, we shifted our focus toward empowering them with a community that encourages a 'go-to-market' strategy," said Adam LaBarbera, EETech co-founder and CEO. "They're not exactly hackers in the denotative sense, and this name change should better reflect the site's content."
Since 2015, DIY Hacking has steadily grown, building an audience of both newly emerging and seasoned makers. With this growing audience, we wanted to create a better place for makers to collaborate and learn from each other, share successful methods with their peers, and eventually bring their concepts to market. But, in order to foster such a community, we knew we would need a streamlined, user-friendly platform.
Sporting newly polished features, along with clearer categories, an emphasis on collaboration, and a simplified search function, we've given Maker Pro a much-needed revamp, with new updates rolling out through 2018.
"Makers don't know what they don't know. So, in the coming months, we will adapt this platform to help them connect with global supply chain and manufacturing partners – not just within the electronics design industry, but also in other engineering disciplines necessary for taking a product to market," said Adam LaBarbera.
The new site highlights projects created by fellow maker pros. Users have the option to share their work privately with friends or publicly for community feedback. Projects are set up for simple navigation by platform, from Arduino and RPi to Linux and Amazon's Alexa. Each project page has a custom BOM tool, and readers have the option to "fork" a project, creating their own version to share with the community.
Another new feature is an industry-first commenting system. Users who are struggling with a particular step of a project or an explanation therein can highlight a portion of text and comment directly on it, interacting with authors and fellow users alike. "The ability to highlight and comment on specific text is the first of its kind," said Maker Pro Editor-in-Chief Chantel Fox.
"We want to give makers all the tools they might need to be successful," said Rob Pengelly, co-founder and CTO of EETech. "With this transformation, we believe makers will be able to better accomplish their engineering goals and become a part of a strengthening community online."
With makers being taken seriously as significant influencers of R&D around the world, this professional platform is the best community to create, collaborate, and go to market.
Maker Pro is live now! Check it out at maker.pro.