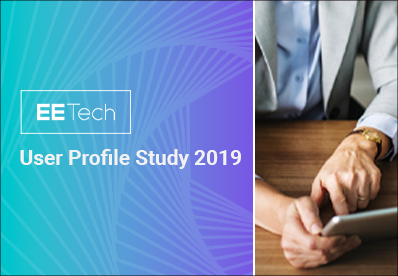 Blog
Future of Electronics Study 2019: Insights into Next Gen and Career Pro Engineers
The electrical engineering industry is evolving, and both next-generation engineers and career professionals are driving this change. But how is the industry shifting? Do seasoned professionals and early-career engineers work differently" utilizing different resources, distributors, or applications?
To provide insight into these questions and more, EETech, in partnership with Wilson Research, released the annual Future of Electronics Study 2019.
The study sourced its data from nearly 3,800 respondents, who are also members of EETech's flagship website, All About Circuits. The EETech audience represents electrical engineers in all phases of their careers, divided into six unique personas: professional engineers, Next Generation engineers, Career Pro engineers, educators, students, and makers/hobbyists.
The study focuses on the significant influences and considerations impacting how electrical engineers work today. These include new trends in the types of projects they're involved in, the tools and applications electrical engineers utilize, their product purchasing choices, and their preferred sources for technical and industry-specific information.
Data in the study also highlights Next Generation engineers and how they compare to Career Pro engineers. Insights into these personas paint a picture of our industry as a whole and forecast emerging trends. For example, there is a shift in preferred distributors and resources between Career Pro engineers and Next Generation engineers.
Career Pro (54% of engineers):

Experienced engineers (6+ years) are deeply involved with engineering modern designs

and the current selection

of products/brands and distributors.

Next Generation (46% of engineers):

Students and early career engineers (< 6 years of experience) rely on different distributors, seek different sources of information, and represent the future.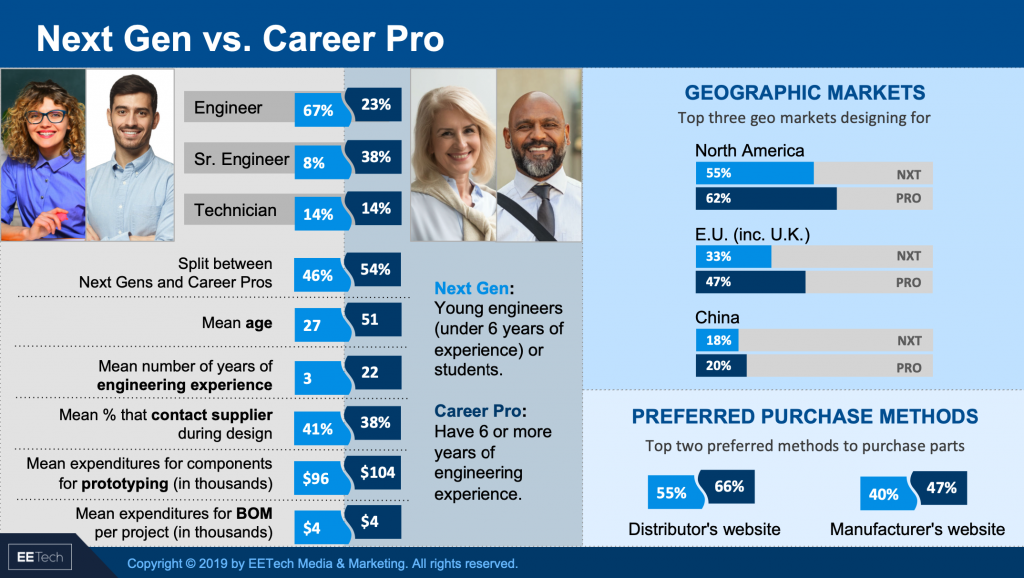 Despite the differences in years of engineering experience, both Career Pro and Next Generation engineers ranked the top two preferred methods of buying components as distributor's websites (66% and 55%, respectively) and manufacturer's websites (47% and 40%, respectively). As far as usage distributors, Amazon ranked the highest for Next Generation, and Digi-Key ranked top for Career Pro.
When considering the top factors to look for in a component manufacturer, both Career Pro and Next Generation ranked reliability as the most important. From there, Career Pro viewed previous experience and services/support as the second and third top factors, respectively. Next Generation ranked low prices and previous experience, respectively.
The similarities between Career Pro and Next Generation engineers in the study revealed differences in their top expertise pursuits:
Career Pro: a

nalog design (44%), embedded (42%), and digital design (41%)

Next Generation:

PCB layout (38%), embedded (34%), and digital design (32%), and showed a much greater interest in machine learning, neural networks, data science, and IC design.
Purchase decisions for products designed create a divergence between Career Pro and Next Generation.
Career Pro:

 self (52%), design team (24%), department (21%)

Next Generation: s

elf (37%), design team (30%), department (27%)
These results offer a rare glimpse into the most prominent ideas and choices that impact the broader electrical engineering community. Additionally, the study provides valuable insight into the resources that electrical engineers rely on today, the challenges they face, and how their choices are ultimately defining the future of the electronics industry. For more insights, get in touch with us for your copy of the Future of Electronics Study 2019.