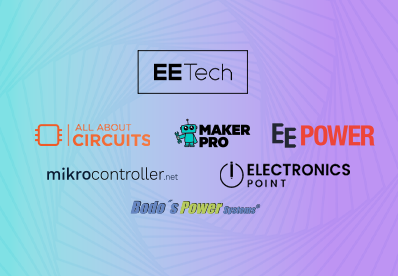 Blog
EETech's 2018: A Year of Expansion and New Horizons
2018 was an enormous year for EETech Media & Marketing. As our current communities "All About Circuits, Mikrocontroller.net, and Maker Pro" flourished with new members and technical content, we sought to expand our global reach, both to new engineering niches and readers in Europe.
Last year saw two great new additions to the EETech portfolio of engineering websites: EE Power and Electronics Point. We aim to inform and converse with all electrical engineering audiences, no matter their location or specialty, and these new sites have helped us expand our ability to do that across the board.
EE Power Offers Niche Content for Power-Focused Engineers
In May of last year, we acquired EEPower.com, the exclusive online publisher for Bodo's Power Systems content. Comprised of articles from the print publication, as well as press releases and industry updates for all things power engineering, the community has been a strong addition to EETech's media portfolio.
EE Power offers us the unique opportunity to publish content that specifically serves the highly technical power engineering portion of our industry. Boasting categories that include integrated circuits, passive components, test and measurement, semiconductors, power supplies, and power converters, the site has been publishing a steady stream of power-focused content since its acquisition.
As EE Power continues to grow, we're exploring additional opportunities, including industry articles and expert engineer interviews, all in the name of making the site a home base for power engineers across the globe. Interested readers can subscribe to our weekly newsletter for routine delivery of high-quality power-focused content.
Electronics Point Welcomes European Engineers for Debate
In December of 2018, EETech acquired another engage community: Electronics Point. Built by a UK-based engineer studying at university in 2005, Electronics Point has grown into an active forum for electrical engineers and electronics enthusiasts alike. As our first European-focused English-speaking community, we believe Electronics Point is the perfect addition to our global portfolio.
"After acquiring the site, we gave it a design update and introduced original editorial content for active forum members to read and discuss. So far, we've seen great engagement from the community, and we plan to increase the number of discussions our readers and forum members have as we identify new topics for debate." said Rob Pengelly, EETech CTO.
The team of European-based engineering writers behind this content has thrived. We're excited to present new topics, research surveys, and interviews with big influencers in the industry, all focused on the unique needs and interests of European electronics professionals and enthusiasts.
What 2019 Has In Store for EETech
"As we enter the last half of January, we look forward to continuing this growth, both for our new communities and our flagship properties. Our domains have prospered in 2018, and we are working even harder to take them to the next level this year," said Adam LaBarbera, CEO and co-founder of EETech.
Join us as we explore what 2019 holds.