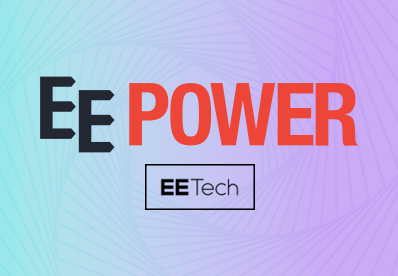 News
EEPower.com Joins EETech's Media Portfolio
EETech Media and Marketing is pleased to announce the acquisition of EEPower.com, which joins AllAboutCircuits.com, Mikrocontroller.net, and Maker.pro as the latest addition to the EETech portfolio.
"As we announced our advertising partnership with Bodo's Power Systems, we knew a website dedicated to the products and design of power systems was a crucial addition to the EETech network. EEPower currently publishes articles online for Bodo's Power Systems' monthly magazine, making it a perfect fit for us," said Adam LaBarbera, EETech's co-founder and CEO.
As the name suggests, EEPower.com centers on all things power-related for a professional electrical engineering audience. Readers can find the latest product announcements, market insights, and technical articles from the biggest names in the power industry. EEPower's content categories include electronic assemblies, integrated circuits, passive components, power converters, semiconductors, and tests and measurements. On top of delivering timely power content, users can also subscribe to a weekly newsletter.
Learn more about advertising on EEPower and our other sites by reaching out to our sales representatives: