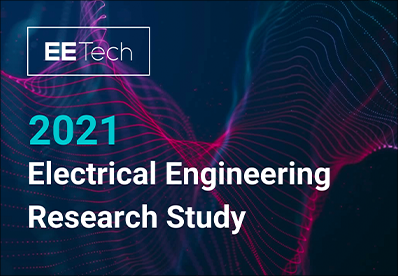 Blog
Engineers Love Data, and So Do We
For the fifth consecutive year, we have paired with Wilson Research Group to release a research study that analyzes how engineers interact with the global electronics market. However, 2021 brings a new and exciting feature to data presentation. We created a brand new website with interactive infographics, dazzling colors, and easy-to-read contextual information. It's not your typical research presentation. It's actually pretty.
Along with stylized charts and creative colors, we decided to parse the data into six categories:
Electrical Engineers
China-Based Electrical Engineers
Control & Automation Engineers
Makers & Hobbyists
Educators
Students
Since 2020, a sixth category — China-Based Engineers — has been added to the growing list of market research. With this addition, EETech Media accumulated over 10,000 respondents, which is nearly 2x more than last year's.
The first published subcategory of the study, as you may have guessed from the title, highlights Electrical Engineers and focuses on product engagement, geographical markets being designed for, a comparison of next generation electrical engineers and their more experienced counterparts, how the global chip shortage has impacted career paths, methods used to purchase parts which give insight into supply chain trends, and top component manufacturers year-over-year.
It took us less than a teraflop to realize we had to share this information with the industry in a different way than through a standard presentation.
Electrical Engineers by the Numbers
When you think of "next gen", you probably envision TikTok dances and mom jeans. If so, you'll need to recalibrate for this research study. When we refer to next gen, we are talking about a young engineer with less than five years of experience and/or are pursuing an electrical engineering degree. Then we have the Career Pros; otherwise known as an engineer with six or more years of experience. The "OG's" so to speak.
Measuring both demographics gives a good indication of where the market is and where it is going. The research study provides comparisons on informational needs, purchasing power, and brand preferences, just to name a few.
For example, using the collected data we discovered that Career Pro engineers are, on average, 20 years older than their Next Gen counterparts and hold most of the reported senior positions. We also found that the Career Pros account for more of the purchasing decisions than the Next Gen engineers, but Next Gens have a heavy influence on the team's decisions.
Key Takeaways
Research studies like this give in-depth insight to market and supply chain trends. Some of the most interesting takeaways from the research study are:
Amazon and Alibaba underperformed when Professional Engineers were asked "Which distributors do you use the most to purchase electronic components or other related supplies?"
Chinese Engineers prefer out-of-the-box designs over research based content.
Career Pros and Next Gens both want to see more written tutorials, walkthroughs, technical articles, product comparisons, and coverage of research developments.
And that's all just the tip of the soldering iron.
For complete access to Electronic Engineers and all subsequent publications, register at EETech Media's 2021 Engineering Research Study website today.
Interested in working for EETech? Check out our open positions and apply today!