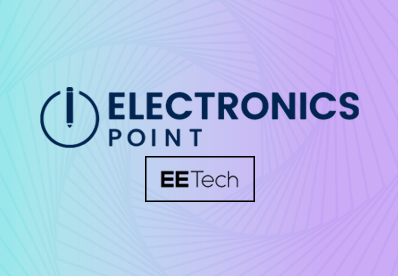 News
Electronics Point Joins EETech's Growing Media Network
EETech is excited to announce that we have recently added Electronics Point to our network of electrical engineering communities. Electronics Point was founded in 2005 by a young electrical engineer in the UK while studying at university. His efforts over the last decade have helped it become a leading community where members can discuss, advise and debate electronics-related topics.
"We're enthusiastic to learn more about Electronics Point's strong European-based community," says EETech Co-Founder and CEO Adam LaBarbera. "Each of our communities are quite different, so we're eager to get to know our new audience members."
As of today, December 6, 2018, Electronics Point is getting a visual upgrade. We're updating the web theme to streamline how users navigate the site, all while maintaining what made Electronics Point such a success in the first place – its forum. You'll notice all the same forum threads, just with a new look.
"We've always worked tirelessly with our community members to make sure they had the best experience possible, and we'll do the same with the Electronics Point audience," says EETech Co-Founder and CTO Rob Pengelly.
On top of a new design, we're bringing editorial content to Electronics Point. One aspect of the Electronics Point forum that stood out to our team is its emphasis on discussion and debate. We're aiming to reflect that in our content. From interviews with the engineers who are shaping the future of the industry to research articles based on interviews with our growing community, we're dedicated to exploring enormous topics, highlighting the newest trends, and digging into what may or may not be part of engineers' futures. Similarly, with our opinion content, we aim to start conversations and critique industry challenges and end goals.
To create this content, we've built a talented team of engineering and science writers scattered across Europe, led by our newest editor Sam Holland. Holland has a wealth of experience writing and editing for the electrical engineering community, and our writers are eager to contribute to the daily conversations our audience has online in the Electronics Point forums and article comment sections.
"We see a lot of potential in this community," says EETech Director of Digital Content Kate Smith. "Whether we're exploring high-level, nearly improbable science or cementing the usefulness of a new trending circuit component, we hope to start discussions with our members and foster a community where we take on the industry's biggest questions."
Overall, with these changes, our goal is to maintain and foster the community that many Electronics Point users have come to love over the years. We want to continue to create a place where they can ask questions, debate bleeding-edge topics, and learn from their peers.
Electronics Point's new look is now live. Check it out at electronicspoint.com.